LPDC for Electrical parts
LPDC (low pressure die casting) is a standard process for developing parts. It uses pressure versus gravity to fill molds with molten metal. Continuously applied pressure continues until solidification. This method of die casting provides superior consistency, great density, strength, and dimensional accuracy. For those reasons, LPCD for electrical parts is a common application that delivers quality parts at an excellent value.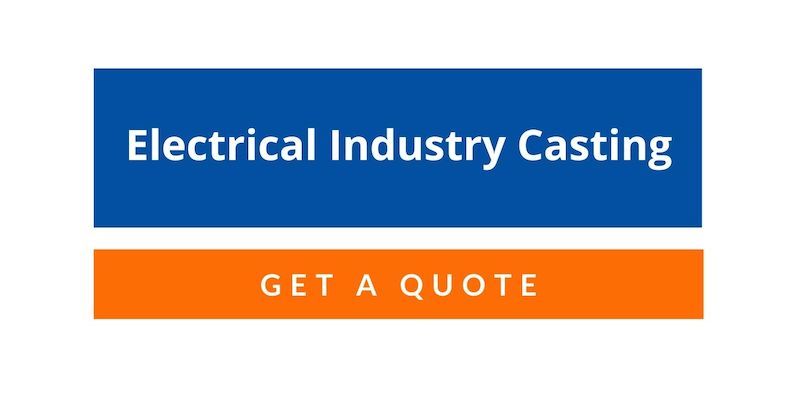 Why Use LPDC for Electrical Parts?
This process for manufacturing electrical parts has many advantages. In comparing LPDC to other methods, consider these benefits.
Precise control of the filling process

Reduction or elimination of oxide formation and porosity (bubbling defects from gases)

Applicable to simple shapes and more complex ones with the use of sand cores

Cost-effective

Easy to scale

Excellent strength values

High dimensional accuracy

Well-suited for thin wall parts
LPDC Materials
Aluminum is the most common LPDC material by far, but there are other alloys that work well when producing electrical parts.
Aluminum Alloys
Aluminum has robust stability. In die casting, it's a favorite because it works well for parts that require thin walls in complex shapes. It's also corrosion-resistant, so its exposure to the elements as an electrical part is not a concern. Further, it has electrical and thermal conductivity. Aluminum's strength does not diminish even at high temperatures, which is a probability for electrical parts.
Copper Alloys
Copper is a very durable metal, which makes it a good fit for electrical parts. It also has a great resistance to corrosion.
Magnesium Alloys
Magnesium is extremely lightweight. This is a benefit for electrical parts as most industries that use them don't want to add unnecessary weight. It's also corrosion-resistant and has good thermal and electrical conductivity.
Zinc Alloys
Zinc alloys are another choice for LPDC electrical parts. It produces a high-quality surface finish to meet strict requirements. Zinc displays a variety of mechanical and physical properties, allowing for complex shapes with thin walls. It also has a long life with minimal maintenance.
LPDC Applications for Electrical Parts
What kind of electrical parts works well with the LPDC process? There are many applications for electrical part manufacturing.
Automotive: There are numerous electrical parts required to manufacture vehicles. Using LPDC for electrical parts ensures a durable, lightweight part. It's beneficial in both electric and gas-powered automobiles.

Machinery: Creating electrical parts via LPDC for machinery delivers consistent, durable components that work in just about any type of equipment.

Telecom: Networking equipment and towers require many electrical parts in a variety of shapes and sizes, making LPDC a natural fit.

Cast housings: These elements protect electric devices and components. And, with tight tolerances via LPDC, consistency won't be a problem.
Our Capabilities for LPDC for Electrical Parts
Design specifications for LPDC electrical components often require the application to be both rugged and durable, while also being lightweight, water-resistant, dust-proof, and shielded from electromagnetic interference (EMI). Even in the most demanding application, KICastings has solutions for the production of consistent electrical parts.
We provide all die casting services in-house and process tons of it every year for a variety of uses. Our facility houses an abundance of LPDC machines to keep production moving. We also have thorough quality assurance processes in place to ensure little to no defects made with LPDC.
Choose KICastings for LPDC Electrical Parts
With years of experience and expertise, KICastings is the right choice for your LPDC for electrical parts. We'll consult with you and take you through the process to assure you that this method is ideal for your electrical part needs.
Get a quote for your LPDC electrical parts services today:
Learn more about investment casting services from an expert metal casting foundry. Our services include: